Business Card Standard 3.5' x 2" 1-Side Full Color
$21.00
Full color printing of customer-provided standard sized 3.5" x 2" business card. Please download the TEMPLATE you need for creating your print-ready artwork.
Business Card 3.5" x 2" Horizontal Template
Business Card 3.5" x 2" Vertical Template

Graphic design not included but can be ordered separately. Please contact us if you need help placing your order online or if you need help with the design of your business card. We will be more than glad to assist you. 

Cardstock Paper Selection


Paper samples are available in our showroom located at 2086 Walsh Ave., Ste B1, Santa Clara CA 95050. Please contact us if you would like paper samples to be shipped to you. Shipping or delivery charges apply.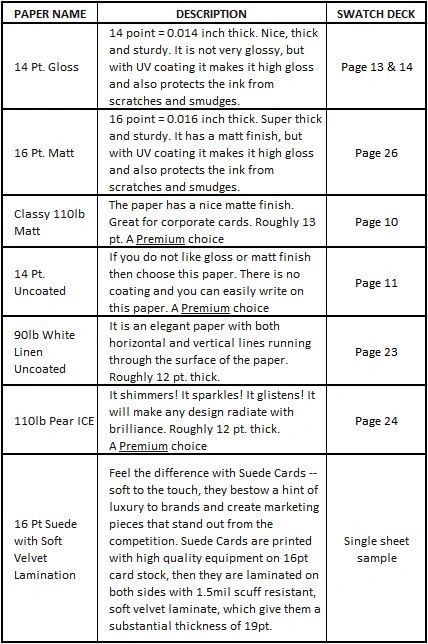 TERMS AND CONDITIONS
1. Artwork must be print-ready in PDF or high-resolution JPG format.

2. CHANGES ON ORDER
If you would like to make any changes after you placed your order, please send us a message through our Contact Us page. We will do our best to respond to you immediately or within 1 business day.
4. TURN AROUND TIME
Orders are processed within 24 hours or 1 business day
The production time you selected refers to the actual printing and quality-check time. It starts the day after you approved your Final Artwork. Add 1-2 business days for PDF proof, and 2-3 business days production time for hard copy proof. 
5. PROOFING*

Please take time to proof-read your Artwork Proof. We will send it to you via email in 1 to 2 business days after we process your order.
Your order can only be moved into production after we receive your proof approval.
6. SHIPPING
Your order will be shipped within 24 hours or 1 business day from the time your business cards are completed and quality checked.
The shipping time will depend on the shipping method you chose. Your options are:


Will Call 
FedEx Ground, Starts at $9.99 (Recommended) :  Guaranteed 1-2 business days within California; 2-7 business days outside California (varies depending on location)
USPS: With lower rates, generally, but delivery time not guaranteed (based on our experience)
For overnight or expedited shipping, please contact us. We will be happy to help!
7. REFUND POLICY
All sales are final. In the event that we printed the file that you did not approve we will re-print your order using the correct file. If you opt not to reprint, applicable credit will be applied to your next order. Credit must be used within 60 days.
If we mutually agree on a refund, we will refund the printing cost you paid for. Shipping fees will not be refunded.
 
Thank you very much for taking the time to read our terms and policy. We truly appreciate your business!